Our Diamond Collection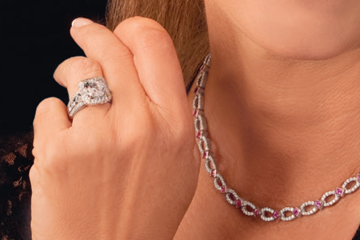 Welcome to Our Diamond Collection
Buried deep within the ground for millions of years, diamonds have been waiting to be unearthed. Afflicted by a small twist of fate, a few rare colored diamonds make their grand appearance and are captured by collectors to be prized and held in the highest esteem. A few lucky others make it into the showcases of fine jewelry stores, and eventually, the hands of auspicious consumers.
Colored diamonds are making an enormous splash in the fashion world of today's modern woman, for good reason. For every 10,000 carats of colorless diamonds mined, only 1 carat will be fancy colored.
So what is it that makes a colored diamond yellow, blue or pink? The answer involves nitrogen, boron and strain, in varying degrees. No, we're not teaching chemistry at M.J. Miller & Co., but these little (and not so little) gems of Mother Nature contain secrets that produce extraordinary results. Often thought of as most valuable when absent of color and imperfections, a diamond is the most spectacular when viewed at its most rare form, in an enormous spectrum of exotic and tantalizing colors.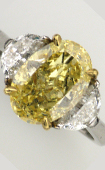 Rings

Diamonds are the most durable gem on the hardness scale. That's not to say a diamond cannot be broken, but it is terrific for everyday wear.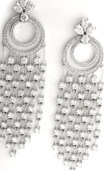 Earrings

A basic jewelry item, diamond studs compliment every style. But don't limit yourself to simple studs. There's an endless supply of diamond earring designs to choose from.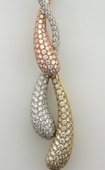 Pendants

A basic solitaire pendant is one of the most versatile pieces because of the simplicity of the design. It can be worn with blue jeans or formal wear.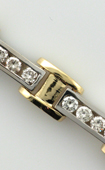 Bracelets

The hottest trend is the bracelet – bangle and cuff bracelets in particular. Try wearing a single wide piece or multiple narrower bracelets stacked on the wrist.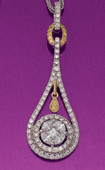 Necklaces

Diamond necklaces can be a starting point when building a jewelry wardrobe. Experiment with different styles and designs to find your favorite.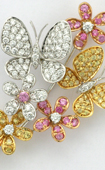 Brooches

A brooch complements any body type and can be worn in multiple ways, yet it remains one of the most misunderstood jewelry options available.