Jewelry Brooches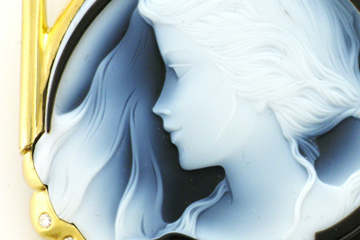 Welcome to Our Jewelry Brooches
What type of woman wear a brooch? An established, sophisticated woman who knows fashion might come to mind. However, when you put a modern twist on brooch-wearing, everything you thought you knew it now skewed. One idea involves clustering in a theme. This is a great way to wear multiple pieces, such as a flower brooch next to a piece with butterflies and bees. Now the wearer is fun and creative in addition to sophisticated!
Gemstone Brooches
Nearly every continent in the world produces gemstones and every gemstone has a story. Some are ancient, while others are based on legend and folklore. But all gemstones have a scientific story. Why is an aquamarine blue or an emerald green? The answer involves mineral impurities like iron, which changes the color of beryl to blue. Blue beryl is better known as Aquamarine. Chromium in beryl produces the rich green color of emerald.
Quartz is one of the most common minerals on earth. It occurs in measurable quantities in almost every type of rock exposed at the earth's surface. Citrine is yellow quartz, and Amethyst (violet colored quartz) is the most prized of all quartz varieties.
A gemstone's value is based on its unique scientific story. For example, while quartz is one of the most common minerals, gem quartz occurs only in limited geological environments. The more exceptional the occurrence of trace impurities, the more valued the gem becomes.
Classic Metal Brooches
The term "classic metals" refers to the Big Three: gold, platinum and silver. While other metals are making an appearance in today's marketplace, these three traditional favorites have special advantages, whether set with gemstones or showcased on their own.
When planning your next jewelry purchase, consider gold's beauty and prestige, platinum's density and longevity, and silver's flair and versatility.
Jewelry trends may come and go, but the allure of classic metals is an indispensable element of all jewelry.