Diamond Rings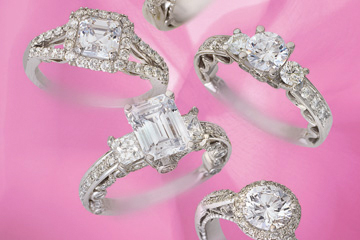 Welcome to Our Diamond Rings
Diamonds are the most durable gem on the hardness scale. That's not to say a diamond cannot be broken, but it's terrific for everyday wear. Keeping a diamond clean requires little effort if maintained on a regular basis. This effort is worth the result. Nothing sparkles like a diamond!
Fine Diamond Rings
The term "fine diamonds" refers to diamonds of all sizes, not just large diamonds. For a diamond to be considered fine, it must be extremely well cut, and of superior clarity and color. Regardless of its size, fine diamonds are brilliant and scintillating. Most fine diamonds are set into jewelry and will capture your attention from across the room. But there are some that are never mounted and are tucked away for investment purposes.
Colored Diamond Rings
Virtually unknown by the general public for years, and therefore ignored by designers, colored diamonds are now finally making their dazzling debut in the jewelry world, and they are HOT, HOT, HOT! Famous, award winning and cutting edge designers like Bergio, Kurt Wayne, Picchiotti, Oscar Heyman and Mark Patterson have all made a niche in the market for this impressive gem. You can find an incredible selection of their wares at M.J. Miller & Co. in the heart of downtown Barrington.