Diamond Pendants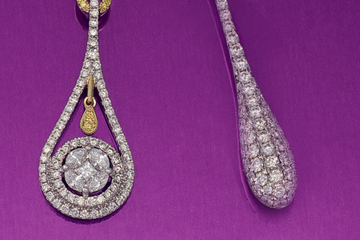 Welcome to Our Diamond Pendants
Diamond pendants can be a starting point when building a jewelry wardrobe. A basic solitaire pendant is one of the most versatile piece because of the simplicity of the design. It can be worn with blue jeans or formal wear. Experiment with different styles and designs to find your favorite.
Fine Diamond Pendants
The term "fine diamonds" refers to diamonds of all sizes, not just large diamonds. For a diamond to be considered fine, it must be extremely well cut, and of superior clarity and color. Regardless of its size, fine diamonds are brilliant and scintillating. Most fine diamonds are set into jewelry and will capture your attention from across the room. But there are some that are never mounted and are tucked away for investment purposes.
Colored Diamond Pendants
Virtually unknown by the general public for years, and therefore ignored by designers, colored diamonds are now finally making their dazzling debut in the jewelry world, and they are HOT, HOT, HOT! Famous, award winning and cutting edge designers like Bergio, Kurt Wayne, Picchiotti, Oscar Heyman and Mark Patterson have all made a niche in the market for this impressive gem. You can find an incredible selection of their wares at M.J. Miller & Co. in the heart of downtown Barrington.